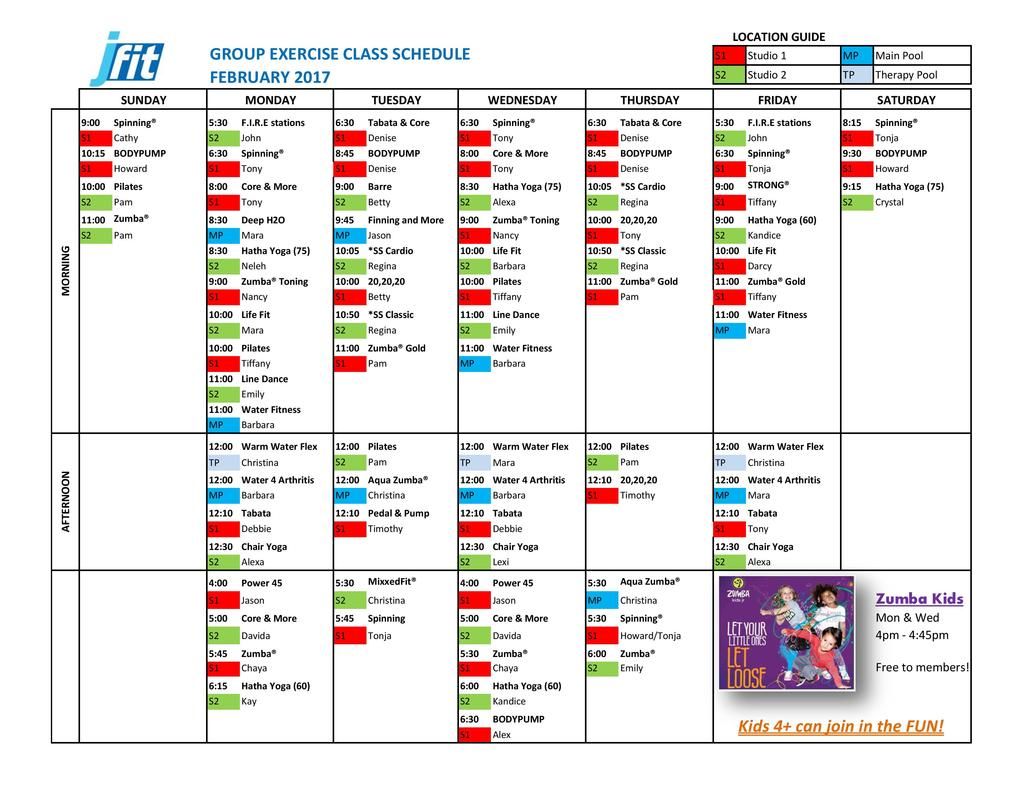 Group Exercise Class Descriptions
Barre – Barre is a fun, energetic workout that fuses techniques from Fitness, Dance, Pilates and Yoga that will tone, define and chisel the whole body, utilizing the barre.
BODYPUMP – The original LES MILLS barbell class will sculpt, tone and strengthen your entire body by using lighter weights at a higher rate of repetition so you can get leaner—faster. This intense training technique accelerates your heart rate at the same time.
Boot Camp – Get in shape, boot-camp style! No two classes are the same. Work every major muscle group, in this fun, and challenging class!
Chair Yoga - This class will move your whole body through a series of seated and standing yoga poses. Class designed to promote stress reduction and mental clarity.
Core & More – Target your entire torso, including back and core muscles, mixed with cardio segments. A strong core leads to a strong, fit body. All fitness levels!
F.I.R.E. stations – Full-Body Interval Resistance Exercises. A total body workout centered on HIIT type training to get the most calorie burning out of your workout!
Hatha Yoga – A slower paced form of yoga, Hatha is the most widely practiced form of yoga in the world, using postures (asana) and conscious breathing.
HIIT – HIIT is repeated bouts of short duration, high-intensity exercise intervals intermingled with periods of lower intensity intervals of active recovery.
Life Fit – A back to basics class focusing on correct technique and posture. Get stronger the correct way!
Line Dancing – A low impact class, learning different Line Dances to an eclectic mix of music. No dance experience needed.
MixxedFit® – MixxedFit® is a people-inspired dance fitness program that is a mix of explosive dancing and boot camp toning. An explosive dance fitness program!
Pedal & Pump – Ultimate indoor cycling experience! Follow your instructor through sprints, intervals, and hills. End with strength training. Full body workout!
Pilates – This exercise technique focuses on the "powerhouse"—the core. Muscles are toned and lengthened, while abdominals and back are strengthened.
Power 45 – 45 minutes of Cardio, Core work, Weights, and Stretching
Silver Sneakers® – These classes are specifically designed for older adults who want to improve their strength, cardiovascular fitness, balance and flexibility.
Spinning® - This class uses the specialized Spinner bike in a group setting. Focus is to improve your strength and aerobic endurance while burning lots of calories.
STRONG® – is a brand new HIIT format that uses music to drive your movement and give you a challenging total body workout that will help you reach your goals!
Tabata – Workout hard for 20 seconds, rest for 10 seconds. Complete 8 rounds for the ultimate Tabata workout.
Zumba® – Mix up your workout with this high energy class set to Latin and International beats. Burn calories and have fun!
Zumba Gold® – All the elements of a Zumba® Fitness Party modified for active older participants or those new to fitness.
Zumba Toning® – Those who want to party and put extra emphasis on toning the muscles!
20,20,20 – Sweat through 20 minutes of cardio, 20 minutes of strength training, and 20 minutes of stretching & core work. A true total body workout!
Water Fitness Class Descriptions
Aqua Zumba® –  Aqua Zumba blends the Zumba philosophy with water resistance for a pool party you don't want to miss!
Deep H2O Fitness – (Main Pool 84 – 85 Degrees) Participants should be comfortable in the water. Deep Water Jogging classes focus on cardiovascular training & muscle conditio
Finning and More – (Main Pool 84 – 85 Degrees) Swimming ability required. Using fins and noodles; this is a great way to tone and improve endurance.
Water 4 Arthritis – (Main Pool 84 – 85 Degrees) No swimming ability required. This class provides participants with gentle range of motion exercises.
Water Fitness – (Main Pool 84 – 85 Degrees) No swimming ability required. Improves endurance and tones muscles by using the resistance of the water.
Warm Water Flex – (Therapy Pool 89 – 90 Degrees) No swimming ability required. This class uses shallow water moves to improve range of motion.
Kids & Youth
Zumba® Kids - This class is a high-energy rockin' dance party, packed with kid-friendly routines in this 45 minute class. Every Monday and Wednesday at 4:00pm.
Kid Fit - Drop your kids to move and have fun, while you workout. Kids 5+ can enjoy fitness activities: Sports, Games & Ninja Warrior Training, to name a few!
Monday – Thursday 4pm – 7pm. (2 hour limit). Location varies – see front desk for exact location at time of drop-off.
The Zone - The Zone is also available from 3:30-7:30pm for parents to drop their children. Located in main lobby area.
Did you know? All group classes and children's activities, listed above, are included in your membership. Non-members are welcome. Drop-in fee just $8 p/day!